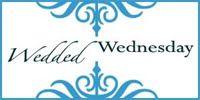 Wedded Wednesday is a collaboration
of married bloggers sharing their inspirations,
anecdotes, struggles and thoughts regarding
the amazing union of two separate people, as one.
Tomorrow is Tony's birthday. Ah birthday's, they rank in the top 5 opportunities to be reflective.
In most regards, despite aging, Tony is still the man that I married. I think that's one of the reasons I laughed so hard at my brother's text message a few weeks ago. He sent:
Levi: Does Tony turn 30 this year?
Oh boy, did I ever find that funny. Hah! I thought, as if he does! He's only . . . oh my gosh, Tony turns 29 this year.
I've never had a problem with growing older, that annual additional notch doesn't worry me. What does however is that I still remember the man I met at 23. It scares me that time has passed so quickly.
I'm really hoping that the weather cooperates for tomorrow. Regardless my plans won't live up to the
surprise party
last year or the
flat screen
the year prior to that! We've got to enjoy every moment of his last year in the 20's, don't you know?