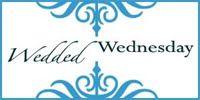 Wedded Wednesday is a collaboration
of married bloggers sharing their inspirations,
anecdotes, struggles and thoughts regarding
the amazing union of two separate people, as one.
As I mentioned in my post yesterday, Tony and I have been walking on dollar bill shaped egg shells lately. Our necessities have pushed us to live past our means as we first rode out his change to commission only and now have been hoping and praying for our business venture to pan out.
Photography money, family handouts and other support has kept us going, but I'm not going to lie there's been heavy reliance on our line of credit and
a
credit card, singular so far. Monday night some of these issues came to a head because as they say, the definition of insanity is continuing to do the same thing expecting different results! We simply can not continue on as we are, because well our resources will soon be exhausted, there's no choice in the matter.
Tony and I have lived in a little bit of an alternate universe for awhile as numerous issues have taken time to resolve or we hoped that they would and I find it laughable that just last week I seriously thought that my saved photography money had a prayer to be invested towards a new camera body. It can't be used until I know that it won't be needed for our house!
At the end of our discussion Monday night, Tony kept repeating, "We'll be all right. Have faith. Have faith." I just wanted to scream at him, "Have faith in what?"
We
made these plans, God does not have to honor something that is apart from His will. I felt completely hopeless. It seemed so apparent that clearly our desires were not aligned with God's desires. And yet Tony kept repeating, "Have faith." Hah I thought, "What could possibly change in the near future that hasn't happened in the last 6 months?"
Well, I'm not laughing now. A lot can happen. Not necessarily good, not necessarily bad, but certainly a lot more action has taken place than the words we've been fed up until this point.
More to come, as always.
Moral of the story, don't challenge God. He's got His own timelines and can move mountains.