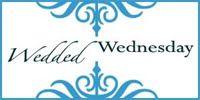 Wedded Wednesday is a collaboration
of married bloggers sharing their inspirations,
anecdotes, struggles and thoughts regarding
the amazing union of two separate people, as one.
Tony and I have never been big for dates or maybe I should say we only go big for important dates, in that we only manage to celebrate special calendar dates: birthdays, anniversary, Valentine's Day and the like.
When we first decided to try to transition Isaac to the crib, my stubbornness faltered but was existent for one reason, I'd asked my Mom to watch Isaac for his first over night with a date of June 4th set. Unfortunately it will not be an overnight anymore, but Tony and I will be going on our first date in oh, further past what my memory allows.
Sure, we've had plenty of occasions that have called for the Grandparents to babysit, but none arranged just so that Tony and I could go out. There have been friend events and work events, but this will the first for Tony and I to spend uninterrupted time together.
We don't have set plans yet, it's like we're a little incredulous it's actually going to happen, but every morning it's one of the first things we talk about!