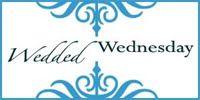 Wedded Wednesday is a collaboration
of married bloggers sharing their inspirations,
anecdotes, struggles and thoughts regarding
the amazing union of two separate people, as one.
What a week for my husband. He kicked off the last year of his 20's and celebrated his 2nd Father's Day. Let's just say that this resulted in a little bit of a weight gain for at least myself! First of, from scratch I made this monstrosity:
Coffee Cake with Chocolate Cinnamon Swirl
.
Credit:
Culinary Concoctions by Peabody
Mine didn't look half as good as this and nearly resulted in burning the house down, but in the end it still tasted
amazing!
And Tony thought the from scratch aspect was totally worth it. :)
Next up, I made his birthday cake following Smitten Kitchen's recipe for a
Double Layer Cake
.
I've literally been begging Tony to let me throw away the leftovers and he won't let me. He's in love with this cake. I suppose that's worth the amount of time that went into it!
Unfortunately the best part of his birthday revolved around food, as we were on lockdown due to severe weather.
You can see the funnel cloud video on the TV behind us.
The whole entire state was virtually under a Tornado Watch and you can see the majority of the system that came through the metro area here:
We've really been focused on spending time together, even if it doesn't involve much more than a simple meal. Our relationship has really changed in the past year, obviously in some ways due to Isaac, but really so many other things have evolved as well.
Here are my boys on Father's Day, at just the same place as last year, the softball park.
I don't know what I would do with Tony's strength, faith or love for me and our family . . . even if he did take my brother up on a bet to grow a beard for 30 days. :)