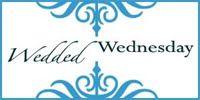 Wedded Wednesday is a collaboration
of married bloggers sharing their inspirations,
anecdotes, struggles and thoughts regarding
the amazing union of two separate people, as one.
Tony and I were having a conversation the other day regarding how much we have changed in the past 5 years of knowing each other. One of the things that sticks out to me the most and is pretty trivial has to do with one of the first house projects that I demanded be completed.
Be jealous ladies, be jealous. :)
What pray tell is Tony unearthing? Why that would be the remains of a clothesline. The very first thing that I wanted changed in our new house was to have the clotheslines removed! I'm pretty sure Tony would just die if I ever asked him to install some . . . who would think that 3 years later we'd have a cloth diapered child! Definitely not that naive selfish little 22 year old.
On a similar bend Tony and I used to be known for our perfectionism. Forget the truck commercial that now touts the same line, Tony's living motto was "Measure twice, cut once." I also used to joke about how type A Target Corporate was and that basically everyone who worked there was Type A, but that basically you had to be Type A Tier 1, Tier 2 or Tier 3.
We were discussing our Type tendencies the other night and I was shocked by Tony's analysis. While I was ready and willing to grade myself a C (-) Tony came up with an A -. And for all our change, what really has steadily remained the same is that Tony always thinks well of me. He may complain about my housework, but he has always given me the benefit of the doubt, lavished praise and generally been much kinder than me.
I'm trying to take a lesson from this, as change is inevitable but there are some things that must be resisted. Clearly as our time spent married has progressed Tony has amply viewed my character flaws and yet he chooses daily to still love me wholely. So as you change, remember to continually think well of your spouse, even if they don't deserve it.