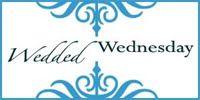 Wedded Wednesday is a collaboration
of married bloggers sharing their inspirations,
anecdotes, struggles and thoughts regarding
the amazing union of two separate people, as one.


Working on it.

Tony and I are really applying ourselves to our marriage right now. We're just at one of those spots - you know, where it's tough. I'm not upset with him and neither he with me, but we're definitely lacking a connection.

When entering marriage, I was very frank with Tony that I would always love him, I just might not be in love with him. I promised to fight through those times though, so that the falling could occur again. By no means are we there right now, this is just a little funk due to difficult circumstances and complacency, but I'm reminded of that conversation.

Marriage is one of the hardest battles I've ever fought, daily. For it must be daily, the choice to love without reservation. We are all broken people, but it's loving past the flaws and continually embracing them wholly. [ps. I totally didn't remember wholly was spelled like that as opposed to wholely.]

We're making a concerted effort to be nice to each other, think of each other's needs, unplug the computer, put away the phones and concentrate on each other. There's been a lot of work lately without much play and I truly believe we have forgotten how to enjoy each other's company to some extent, save watching Parenthood together.

Do you recognize rough patches and communicate through them with your spouse?