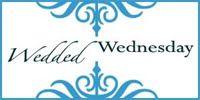 Wedded Wednesday is a collaboration
of married bloggers sharing their inspirations,
anecdotes, struggles and thoughts regarding
the amazing union of two separate people, as one.


From my Power of a Praying Wife desktop.

May 12th.

Fear is the enemy of faith. It keeps us from moving into the life God has for us. Significant things happen in our lives when we don't allow fear to rule the situation. Pray for your husband to be free from fear.

Challenge yourself to pray this over your husband and yourself.

Imagine the possibilities, don't dwell on the lack of security.