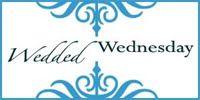 Wedded Wednesday is a collaboration
of married bloggers sharing their inspirations,
anecdotes, struggles and thoughts regarding
the amazing union of two separate people, as one.

Tony and I have spoken at length regarding the when's and where's needing to be hammered down in consideration of expanding our family and I thought we were on the same page . . . until.

Driving home from softball.
Tony: So, after hearing all of this talk about being pregnant yesterday, what are you thinking?
Me: What do you mean, "What am I thinking?" I'd be pregnant yesterday if it weren't for life and stuff and bleh.
Tony: So does that mean our plans have changed?
Me: You think I would just decide to change our plans?
Tony: Well, I just want to make sure I know what you're thinking.
Remember that whole submission post I wrote? I think I should probably revisit it if my husband thinks I would single handedly change the course of our family plans without conversation with him or prayer!