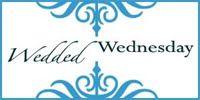 Wedded Wednesday is a collaboration
of married bloggers sharing their inspirations,
anecdotes, struggles and thoughts regarding
the amazing union of two separate people, as one.
This past weekend we experienced 60* temps. It was amazing. It felt like Spring had unexpectedly shown up earlier than anticipated. Everyone and their brother were walking or running about. The sounds of shrill screams from kids finally released to the outdoors to run crazily about seeking out messes filled the air once again.



Tony, Isaac and I basked in the sun and went on a nice long walk. Isaac seemed thrilled to recognize his favorite object, trees, were still present and his eyes would light up as he pointed frantically at every overhanging branch.



It seems that all too often life consists of these moments of bliss. When the sun is literally shining on your face and yet you fail to truly relish it. I most often seem to do this with Tony. I'm really not that appreciate of him, always wanting for something more.

I was reminded of this while we were enjoying the sunshine, because in the back of my mind I kept feeling this nagging reminder that I should soak it up as much as possible. Two years ago we were also lulled by fantastic weather, only to wake up one morning to this.
And so the same can be said for never taking for granted the days when the sun is shining on your marriage. You just never know what's around the corner.