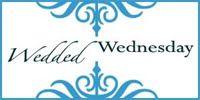 Wedded Wednesday is a collaboration
of married bloggers sharing their inspirations,
anecdotes, struggles and thoughts regarding
the amazing union of two separate people, as one.
Gross. I just realized that I completely forgot about WW this week. I was home sick yesterday and for some reason today does not feel like Wednesday, nor Tuesday, but actually Thursday.
I've got nothing to contribute to this post today. I was thoroughly frustrated with Tony Monday/Tuesday due to his "caregiving" skills. We've talked it through, but I don't think I can speak on it and spin it to a good light.
I look forward to reading your posts!