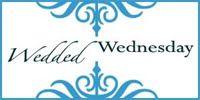 Wedded Wednesday is a collaboration
of married bloggers sharing their inspirations,
anecdotes, struggles and thoughts regarding
the amazing union of two separate people, as one.
So, you know why Tony and I weren't in a
good place
?
Because contrary to our communication is important stance we broke down.
"I'm fine." became my standard answer. "Nothing." seemed to be my only response to Tony's "What's wrong?"
And do you want to know why? Because I convinced myself that I could just bury the issues that were plaguing me and I just couldn't.
The first started January 30th. Yeah, I know. That was 3 1/2 weeks ago. It was the day I got to
2nd shoot with Gina
, leaving Tony and my Dad to care for Isaac throughout the day/evening. I left before Tony and Isaac got out of bed, but Tony woke enough to ask me to defrost breast milk before leaving. I heard his request, but told him no. I explained that I didn't want to defrost a mass amount of breast milk, because whenever we've done that in the past we've always wasted at least a bottle.
That night I went to my Dad's to pick up Isaac, and wouldn't you know . . . Tony had defrosted a large amount and at least 5 ounces were left to spoil [you can't refreeze breast milk after thawing].
This hurt and infuriated me. Not only did he completely disregard what I said, but past that the expected result happened. Wasting breast milk is a direct loss of my time and effort, which is something that Tony and I have talked about before. Of course we spoke about it that evening, but somehow it was my fault and Tony ended up equally upset with me. There was no feeling of closure.
In addition to this, there seemed to be a build up of resentment due to Tony's current work situation. It's light. Really light. Which also means that money is light and tight. We haven't gotten a check from Tony's end in 2 1/2 weeks. This of course means stress. When his work is light, Tony has no where to go but home. Without fail though, it seemed that if I asked for his help around the house it was never completed. Now he wouldn't sit on his hands without action, but he'd complete what ever chore it was that he wanted to do, not the one I'd asked for help with . . . and then I stewed.
The wonderful
Valentine's
we got to enjoy only happened because we
finally
talked through these issues. It didn't end all hunky dory because Tony apologized for all of the things I thought he'd been doing wrong, but because we
communicated.

I hope this can encourage someone today. :)