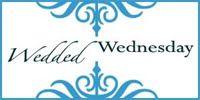 Wedded Wednesday is a collaboration
of married bloggers sharing their inspirations,
anecdotes, struggles and thoughts regarding
the amazing union of two separate people, as one.


Tony has been making a few meals lately and just a week or so ago came up with a questionable dish. In reference to this he said: "Just call me Chef BoyRLetsSee!"
I'm sorry, but I nearly died laughing. For all the many reasons I love Tony, his humor is not one. Don't get me wrong, we have similar humor in what we find funny, but he doesn't make me bust out laughing a lot.
Lately though, he has and I like it.

Who's the funny one in your relationship?