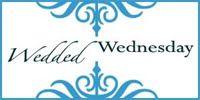 Wedded Wednesday is a collaboration
of married bloggers sharing their inspirations,
anecdotes, struggles and thoughts regarding
the amazing union of two separate people, as one.
Although this email response was written a little over 5 years ago now (December 29, 2004), I can't help but want to share it.
On this day, 5 years ago Tony and I met face to face for the first time. We'd been emailing each other for close to 4 weeks and the heart behind these sentences was always apparent to me:
As a set up, Tony asked me where I would like to be in 5 years, and then answered his own question. This is his response:
In five years...I want to be happy, I don't want to be searching for irrelevant things. I would like to be established as well. (Career, Home, Financial Stability). I want to have friends that I look forward to hanging out with (which I have been blessed with). I want to have a stronger relationship with God...One to base a Marriage on and one to help teach my children morals and to help them build integrity. I would like a wife to look forward to spending tons of time with and hate the times being away from her. I want to smile every time I think about her and I want to get that feeling you get when you know you are in love and the feeling never leaves you. I want to live a life with no regrets and one that develops endless opportunity for me and my family.


The first time I read these words I broke down.
Can you blame me? I knew God had orchestrated Tony's sudden appearance in my life, but I could
not
believe the depth of the man I was speaking with, already jokingly referred to as my future husband.

While our lives have not been trouble free, nor do I think Tony has attained
all
of his above wants on this 5 year mark, I can say with so much joy that he has come close. :)

I've needed to be reminded of Tony's place as the head of our household lately. Sure there are days I think I'm absolutely fabulous and am pulling my weight, Isaac's weight and what I may consider on some days Tony's dead weight, but the reality is, it's that above vision with God as our provider that will see us through. Tony needs my support to continue and I want nothing more than that, because his heart is absolutely devoted to us.