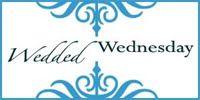 Wedded Wednesday is a collaboration
of married bloggers sharing their inspirations,
anecdotes, struggles and thoughts regarding
the amazing union of two separate people, as one.
Well, I'm in a little funk right now. I think it's a combination of winter weather, general distance from Tony, the last post, lack of soccer, a position of ambiguity due to an ongoing unresolved new venture and extreme negativity towards work right now. It has made for a fantastic crappy mood.
And this mood wants nothing to due with my hubby. It's not fair to him and I need to shake it off.
I think this is one of the major disadvantages of being a woman. Sometimes you can be vividly aware of the pain you are in or are causing others, but still wallow without taking action. Sure I'm affected by several situations out of my control, but those items should not force me into a place of complacency. There
are
things that I
can
change and I should not forget about that, starting with my attitude.
The way to get started is to quit talking and begin doing.


Walt Disney