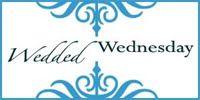 Wedded Wednesday is a collaboration
of married bloggers sharing their inspirations,
anecdotes, struggles and thoughts regarding
the amazing union of two separate people, as one.
A little over two years ago, I was
here
.
Based on the testimony I shared
here
, it's safe to say that I've had lower points in my life. But that girl two years ago? She had little faith, except for words - those were plentiful. She also had little respect for her husband - not that he didn't deserve it.
As it is with any major change, the change I desired didn't happen over night. I'm not even sure what
it
was, but I know it involved crying out to God. And He listened.
With the new year approaching are you in need of change or looking back from a course direct?