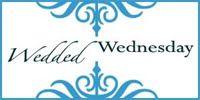 Wedded Wednesday is a collaboration
of married bloggers sharing their inspirations,
anecdotes, struggles and thoughts regarding
the amazing union of two separate people, as one.
Sometimes happiness isn't as anticipated.
It can be as simple as your husband offering to run an errand unexpectedly.
Or then stating that he'll make dinner.
But when the errand is running to purchase breast pump parts and dinner is a basically a feast? That's when I'm truly giddy. :)
I can't help but share Monday's nights dinner:
Bertolli frozen entree
Spinach salad
Pirogies
1/2 an egg roll
2 cream cheese wontons
Combination of brown rice and white rice
Dinner conversation, priceless.
Tony: I made too much food didn't I?
Me: Um, yeah. But that's all right!
Tony: I kind of wanted leftovers on hand anyway. I was going to make the pork tenderloin instead . . .
Wait for it.
Wait for it.
"But we didn't have anything to go with it."
I love him.