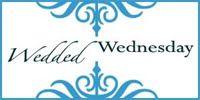 Wedded Wednesday is a collaboration
of married bloggers sharing their inspirations,
anecdotes, struggles and thoughts regarding
the amazing union of two separate people, as one.
Food for thought:
Finally, brothers, whatever is true, whatever is noble, whatever is right, whatever is pure, whatever is lovely, whatever is admirable—if anything is excellent or praiseworthy—think about such things.
Philippians 4:8
We had this verse read as a part of our ceremony. I love it, as it can apply to so very many aspects of life.
Today, I dwell upon it in terms of my relationship. I think it beckons one to push aside wrongs of the past, focusing instead on redeeming qualities. Last week I voiced my frustration over housework and cooking, but need to give recognition where it is due.
Because of Tony:
I have never mowed our lawn
I rarely clean the bathroom
I have never changed a lightbulb in our home
I have a wonderful bathroom in our basement
I have a beautiful nursery for Isaac with smooth new walls
I have overhead lighting in our living room and nursery
I know that I am loved, desired and esteemed.
I have a confidant.
I have experienced and witnessed pure love.
What are the redeeming qualities of your man that you sometimes forget about?