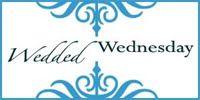 Talk things out and never give up!
Tony and I have been married for 3 years now, so I'm far from a marriage expert. We don't have a decade or two of experience to draw on, but I'm quite pleased with what we have gained in the short reign we've had.
Our most trying times were had in the last 6 months of our first year. It's taken me awhile to realize this, because I always refute people when they say that the first year is the hardest. I now recognize that it was true of us as well, even though it was majorly determined by outside sources.
Tony was run ragged by a sales job he fell into when put out of work. Every day a phone call was placed to me to vent about his a-hole boss. Every day I tried to encourage him, until the day I didn't have anything left. And then I started to shut down. Suddenly our communication, our life line was severed. I didn't want to support Tony any more. I didn't want him to suck every bit of positivity out of me, so I stopped sharing with him. And as soon as I stopped that I no longer connected with him, which led to my being annoyed by his every action or non action. This grew to the point that I could barely look at him or think of him without some annoyance.
I can't say that I suddenly woke up and righted my wrongs, but I wasn't oblivious to what was happening and neither was Tony. So we worked at it. Here we were newlywed lovers suddenly awkwardly going through the motions. We knew we had to establish the ground work for a stronger line of communication and so we did, every day, every night. Continually building it. Praying at night was our chance to reconnect at the end of the day. We knew how bad it could get and we didn't want to go there again.
The turning point was definitely when Tony left that company, but the great thing was that when he did we were stronger for it. We never completely gave up on each other. I now know some of the best ways to support my husband and he nows how to recognize when I'm shutting down. For two people who talk alot, you'd think we'd understand how vital communication is without going through a crisis, but we didn't.
Never give up communicating with your spouse. Full disclosure may not work for every couple, but in this household it's necessary. For the most part I think we both keep each other in check so much that there isn't enough momentum to share feelings that hurt the other, because they haven't been given enough time or firepower to build.
Don't get tired of doing what is good.
Don't get discouraged and give up, for we will reap
a harvest of blessing at the appropriate time.
Galatians 6:9